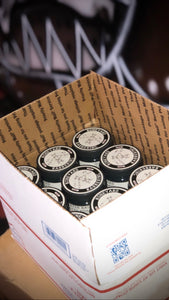 Wholesale Matte Pomade Cases
Quantity must be 1 or more
This pomade is great for more of a natural textured look. Apply to nearly dry hair, less is more. For best results rub together until clear (add water if needed).
How to use:
Remember: The Dryer The Hair, The More Natural The Look
1. Apply a small amount to palms & rub together until clear
2. Distribute evenly through damp or dry hair and style/shape
3. Rinses out easily with shampoo and water
"For Barbers By Barbers"
When we put out a product we make sure it is the top of the industry to keep you looking great. A line of men's grooming products created for those in the know. Because Boneyard Pomade was created by a barber, not a scientist.
Wholesale & Distribution:
With our streamlined mass distribution we are able to supply you with as much pomade as you need. Contact us for distribution pricing
Pomade Videos: